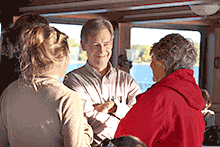 isee systems is in business to improve the way the world works, by creating Systems Thinking-based products and training that enable people to think, learn, communicate, and act more systemically.
We are devoted to the mission established by our company founder,  Barry Richmond, and to making Systems Thinking and System Dynamics accessible and applicable to people in ALL fields and professions.
The "Making Connections"  blog was created so we can easily share our experiences and ideas and learn from each other. Links to tweets, forums and other online discussion will also connect us to the broader Systems Thinking community.
Please give us your feedback, post your comments, and keep us in the loop on what you're doing and thinking!