2009 Barry Richmond Scholarship Award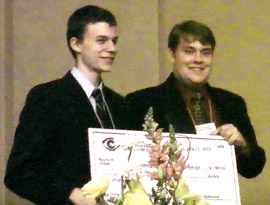 The Barry Richmond Scholarship Award was established in 2007 by isee systems to honor and continue the legacy of our founder, Barry Richmond.  Barry was devoted to helping others become better "Systems Citizens".  It was his mission to make Systems Thinking and System Dynamics accessible to people of all ages and in all fields.
The award is presented annually at the International System Dynamics Conference to an individual whose work demonstrates a desire to expand the field or to apply it to current social issues.
Barry had a particular passion for expanding the field into K-12 education.  He worked closely with teachers and young people at all levels to incorporate Systems Thinking tools and methodologies into the classroom.  With this in mind, it was a great pleasure to present this year's award to Marcus Robinson and James Ranney, two students from Wilson High School in Portland, Oregon.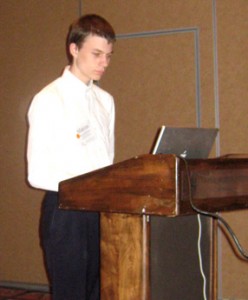 The scholarship committee was very impressed by the quality of the models and technical papers that these students submitted.   Both high school seniors were enrolled in Diana Fisher's modeling class this past year.  For their final project assignment, they were asked to explore a topic of their own choosing.
Inspired by a video of the PBS NOVA program "Dimming the Sun", Marcus chose to create a model that would help to answer the question "How Much do Carbon Emissions Need to be Reduced in Order to Stop Global Warming?" To download Marcus' paper, click here.
After a run-in with a large frog at his summer camp, James was interested in answering "What is the Impact of Introducing an Invasive Species into an Ecosystem?" – in this case, the bullfrog into the Pacific Northwest. To download James' paper, click here.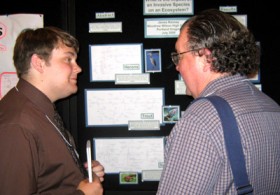 Both students presented their work at a parallel session during the conference and again at a special K-12 poster session.  What a delight it was to see how empowering modeling real-world issues is for young people and the enthusiasm they share for their work.
Thank you to the society for making a special effort to serve the K-12 community and provide opportunities for partnership.  Congratulations Marcus and James, Barry would be very proud!
Applications for the 2010 Barry Richmond Scholarship Award will be available on the isee systems and System Dynamics Society web sites. Check those sites for more information.