2011 Barry Richmond Scholarship Award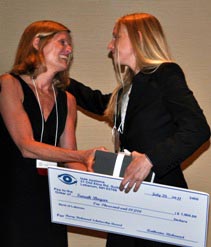 The Barry Richmond Scholarship Award was established in 2007 by isee systems to honor and continue the legacy of its founder, Barry Richmond.  Barry was devoted to helping others become better systems citizens.  Systems citizens are members of a global community that strive to understand the complexities of today's world and have the informed capacity to make a positive difference.  It was Barry's mission to make systems thinking and system dynamics accessible to people of all ages, and in all fields.  The award is presented annually at the System Dynamics Society Conference to an individual whose work demonstrates a desire to expand the field of systems thinking or to apply it to current social issues.
Through most of his career, Barry focused on education as the key to spreading systems thinking.  As a teacher and a mentor he dedicated much of his time to developing tools and methodologies for teaching systems thinking.  With this in mind, it was a great pleasure to present this year's award to Sarah Boyar, a recent graduate of the Masters Program in System Dynamics at Worcester Polytechnic Institute (WPI).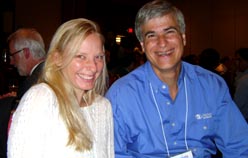 Sarah presented a portfolio of her work to the scholarship committee.  In particular, an essay about her teaching philosophy resonated with us.  Sarah wrote this piece while taking a seminar in college teaching in order to fulfill her Real World Dynamics course requirement at WPI.  Since she already had plenty of experience as a consultant applying system dynamics to real world situations, Sarah managed to convince the WPI powers-that-be that an essential real world manifestation of system dynamics is the way that it is taught.  This is something Barry would have encouraged and been excited about.
Her essay titled Beliefs About Teaching and Learning begins as follows:
I teach System Dynamics. While I want my students to have some knowledge of system dynamics, most of all I want them to be excited and stimulated by it. I also want them to find it beautiful: I want to teach in such a way that my students find some aspect of beauty in the work, whether it's through the visual arcs in the model interface, or the precision of algebra in the way we write statements, or the way that system dynamics can ameliorate a social ill that concerns them. I want my students to somehow feel a sense of peace and beauty derived from some aspect of the knowledge I am teaching.
Among Sarah's aspirations is the desire to teach system dynamics to professionals in other fields, namely lawyers (potential judges) and medical doctors.  Incorporating a systems perspective within both the judicial system and in healthcare could certainly make a positive difference for us all.  Good luck and congratulations Sarah!