A Minor Release with Major Features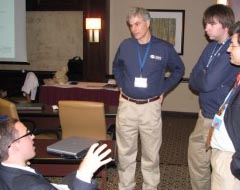 We've been working hard these past few months preparing for the latest release of STELLA and iThink and are happy to finally share it with everyone.  Version 9.1.2 is now available!
As an update to STELLA and iThink, you could easily be fooled into thinking that it is made up of just a few minor bug fixes.  To the contrary, this release is full of new features and enhancements that make it much more exciting than its version number suggests.
After receiving wonderful feedback at our User Conference last October, our development team was motivated to incorporate as many suggestions as they could into this particular update. Better yet, version 9.1.2 is a FREE update for anyone who has purchased a software license or an Annual Support Contract within the last 12 months.
A series of in-depth posts about specific features in 9.1.2 already exist and we'll be adding more in response to your comments in the coming weeks. In addition to providing new functionality, we worked with beta testers on eliminating performance bottlenecks especially with larger models spanning multiple modules.
Version 9.1.2 shows impressive performance. This is a significant step in productivity! — Albert Mauritius, Beta Tester
Check out the complete list of what's new in version 9.1.2 on our web site or download your copy now.