Published Papers that Feature Models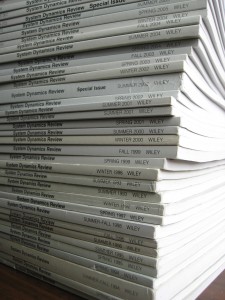 One of our customers suggested we compile a list of articles after being asked to submit a paper about his STELLA model. We thought a list of published papers about STELLA and iThink models was a great idea. The information would not only be useful to people writing papers, it would be a wonderful resource for folks wanting to learn about other modeling projects.
It occurred to us that the blog would make a good home for the list because others could help keep it current by posting comments with links to newly published papers or papers we may have missed.
To get the ball rolling, we compiled a list from journals we are familiar with – System Dynamics Review and Journal of the Operational Research Society. The result is by no means exhaustive. It is simply a way to get things started. We need your help to expand this list and to include other journals that you're reading.
If you know of a published paper about a STELLA or iThink application that does not appear on this list, please let us know about it by submitting a comment. It would be helpful if you included citation information so that we can quickly verify it and update our list.
Thanks for your help!
System Dynamics Review
Journal of the Operational Research Society